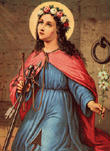 Send me your prayers petitions and also your accounts of favours granted for publication on this page.

Special note: If you have a special request such as the following submission that I received;  please remove the old petitions from this page.  Please contact me directly on my email address which is; catacomb@bigpond.com and identify which petition you wish me to remove and its exact wording. You can only ask for your old petition to be removed and not someone else's petition!
When your prayer is granted please share your good news with us and send your thanks to be put up on the web page.