Missionbell (Living Rosary)

If you would like to join the Living Rosary run by Missionbell, please email me (Mary Ann) at:

What is the Living Rosary?

The Living Rosary Association is a spiritual organisation, which was founded by Pauline Jaricot in France during the 19th Century. The primary aim of its members is to recite a specified decade of the Rosary each day. It is organised into groups or circles. Each circle consists of 20 people. The obligation of each member of the circle is  to recite a specified decade of the Holy Rosary each day. In this way the group collectively prays the complete 20 decades of the Rosary each day.  All the members thus share in the graces associated with this whole spiritual undertaking.

Rules of the Living Rosary

1.  Each group of 20 people forms a circle.

2. The circle is given a name to distinguish it from other circles.

3.  Each person in a circle undertakes to say one specified decade each day.

4. The decades are allocated to the members, so that each has a different one to say.

5. The starting date for each circle is the 1st day of a specified month. 

6. On the first day of each subsequent month, each member moves onto the next decade of the rosary and says that particular decade until the 1st day of the next month, when they change again and so on. 

7. After 20 months, each member is asked for a recommitment and the circle will be restarted when there are again 20 people available to begin this particular Living Rosary circle. (Sometimes this may involve a delay in order to make up the numbers if any of the original members are not continuing). 

A  special card is given to members of The Living Rosary. On this card is printed the member's name; The Living Circle name and a personal 20 month decade/ chart. Even though each person in the Living Rosary Circle says only one decade each day, They each spiritually gain the whole 20 decades each day. A small newsletter will be sent with your Living Rosary card.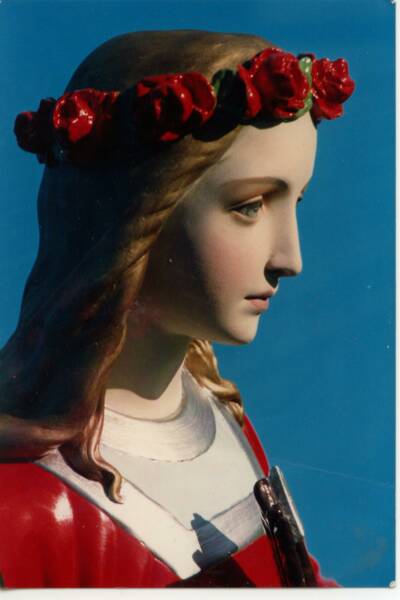 St. Philomena the patroness of the Living Rosary

Special note: I am in Sydney, Australia,

but I can post your Living Rosary Card

to anywhere in the world.,

(Mary Ann)